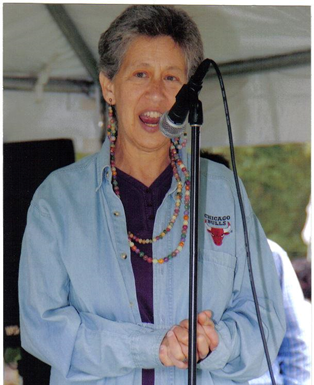 Lynn Myrna Foreman
May 9, 1942 - November 3, 2023
Memorial Contributions
Friends of Washington Park
or
To support a bench in her memory to be placed in Washington Park where she walked weekly for nearly sixty years.
www.gofundme.com/f/lynn-foreman
---
OBITUARY
Lynn Foreman (May 9, 1942—November 3, 2023) was a fierce and feisty proponent of Tikkun Olam who believed that no achievement mattered unless you also were firmly committed to leaving the world a better place than you found it. She was a lover of books and history, of public parks and libraries, and of social and economic justice. She was deeply committed to women's rights, good grammar, idiosyncratic fashion choices, long walks, and tail-wagging dogs; she had little patience for institutional or individual elitism, entitlement, or inaction. She was an example and model for many.

Lynn Myrna (Leah Malka) Ontman, the granddaughter of Lena and Phillip Ontman and Solomon and Fanny Ravid, was born on May 9, 1942, on the "great West side of Chicago," as she made her daughter promise to put it. She graduated from Bowen High School in 1959. After studying history, she earned a BA from Roosevelt University with a degree in Women's Studies, and later earned a professional certificate in accounting at Northwestern.

For Lynn, kinship was based on much more than biology. She was parented with love by Roy and Tommie Jewel Young and was a beloved member of the close-knit Young family. She helped raise her three grandchildren, the sons of Maggie Brown, with great joy. Her nieces and nephews were a constant source of pride and delight. She raised her daughter, Pier Gabrielle Foreman, surrounded by the additional love and guidance of grandparents, godparents, uncles, aunts, cousins, and friends. Lynn balanced the high academic expectations of Pier's father Kent, Lynn's former spouse, with reminders that you can be the smartest person in the room and still not be right and that "pretty is as pretty does"; it was Tikkun Olam in action. She constantly reminded Pier and others that doing your best is more important than meeting institutional or other people's standards, whether that meant falling short or far exceeding those metrics. She gave Pier permission to speak out against injustice, to follow her own path, and to recognize constraints clothed as unquestioned convention. She introduced Pier—and so many others—to the beauty found in the crags of history, to art, architecture, and activism embedded in community, to long walks and nature, and to the unmatchable beauty of good friends and chosen kin.

Even as she is greeted by her overjoyed pets and by loved ones on the other side, she is deeply missed by her family, friends, and neighbors. To keep her nearby, we will try to carry on her fearless passion for life and her love of justice, and to pass that on to others in her honor. In that way, we pledge to make her memory a blessing.

The service will be held at KAM Isiah Israel on Thursday, 11:30 AM. Please enter from Greenwood, park in the parking lot, and enter the side door to proceed to the smaller chapel. Interment Oakwood Cemetery. In lieu of flowers, the family invites donations to Friends of Washington Park or to support a bench in her memory to be placed in Washington Park where she walked weekly for nearly sixty years. www.gofundme.com/f/lynn-foreman. If you plan to come to the cemetery, you are invited to bring a small stone to place on Lynn's gravesite. To attend the funeral live stream, please visit our website. Arrangements by Chicago Jewish Funerals - Skokie Chapel, 847.229.8822, www.cjfinfo.com.
GUEST BOOK
We encourage you to share your personal condolences and stories of Lynn Myrna Foreman below and we will share them with the family.