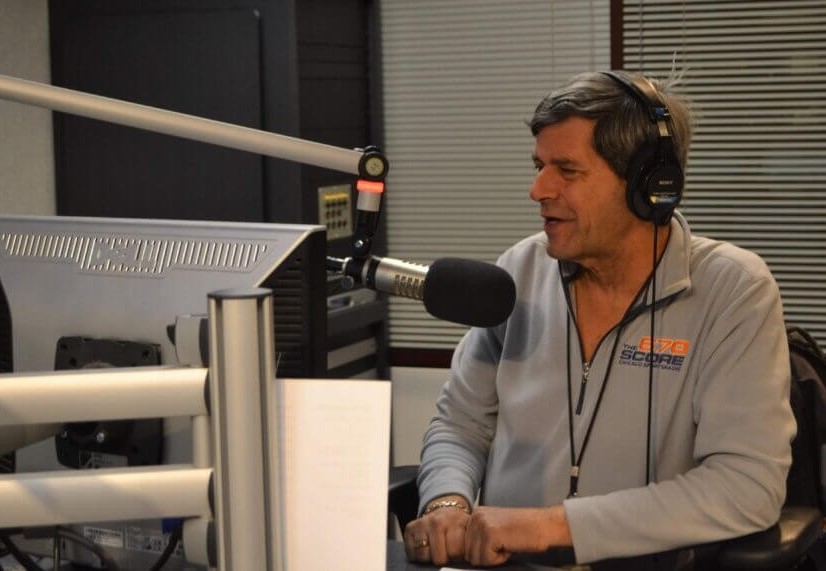 Les Grobstein
March 11, 1952 - January 16, 2022
We invite you to record a video, sharing a story or memory of Les Grobstein. Your private recording will only be shared with the family.

Memorial Contributions
Congregation Or Shalom
21 West Hawthorn Parkway
Vernon Hills, Illinois 60061
www.orshalomlc.org
or
PAWS Chicago
1933 North Marcey Street
Chicago, Illinois 60614
www.pawschicago.org

---
GUEST BOOK
We encourage you to share your personal condolences and stories of Les Grobstein below and we will share them with the family.
Rest in peace, Les. So many fond memories of you on the radio as a kid and into my adulthood. May your memory be for a blessing.
Rob Festenstein
January 19, 2022
Rest In Peace Les. Such a pleasure to have known you and worked with you at The Big 89!
Vuanita Maze
January 19, 2022
There's something endearing about Les when all, and that means all of the media people he worked around in a competitive business have expressed such reactions of shock, sadness and warm remembrances. Gregarious, generous, totally unique. Among his kindnesses to me, he invited me to be his color commentator for UIC hockey in its conference playoff games at Detroit's Joe Louis Arena. My deepest thoughts for Kathy, Scott, families and friends. I'm heartened to know that his life away from the arena held as much love, given and received, as he had for sports.
JD Vercett
January 19, 2022
May his memory be a blessing. A major contributor to the sounds of Chicago radio.
Dave Baum
January 20, 2022
Rest in Peace Les. WLS was where we met and I was in the presence of the Grobstein Sports Encyclopedia. I cherish those memories. To the family my sincere condolences.
Pam Murphy
January 20, 2022
R.I.P. Les. .you were a great friend and will truly be missed 🙁 always will cherish the many fun times I had with you, Kathy and her boys over the years:) you made so many people laugh and were always a genuine person 🙂 keeping you in my thoughts and prayers:) love ya. Heaven has gained a wonderful sports Angel:)
kathy swiatek
January 20, 2022
Rest in Heaven Les. It was such a joy to hear you on the radio, especially the way you bonded with your listeners. We were all like one big happy family. Thank you so much for being there for us every night and communicating with us on social media. I hope you know just how much you really meant to so many of us. My sincerest condolences to your family and friends. Blessings in your eternal life my friend.
Crystal Edwards
January 20, 2022
RIP Les Grobstein,aka "The Grobber." This man had an encyclopedic knowledge of, not only Chicago sports, but sports in general. I listened to him for years on 670 The Score when I worked nights and high school since 98. A true Chicago legend. He will be missed.
Alvin Redd
January 20, 2022
I am what you would call a night owl, so I would stay up and listen to Les all night. He became like a best friend to me, keeping me company and bringing me a familiar company each night. There will never be another like him, may he rest in peace.
Richard Williams
January 20, 2022
To the family of Les Grobstein,
My deepest condolences. I have been a fan for years I consider him part of the family. Thank you for sharing him.
Bill Bechtel
January 20, 2022
I remember being with my cousin in Mesa for a Cubs spring training game in 1989 and had the great fortune to meet Les through a mutual friend. We were at a ballgame and needed a ride back to where we were staying. As luck would have it, Les offered to drive the two of us. We got into the backseat of his car, which doubled as his office/motel/fast food restaurant, and headed out through the mountains. As we were winding down the highway, Les needed to pullover onto a patch of gravel, off to the side of a busy stretch of road, in order to get on the radio with "Steve and Garry" on WLS at that moment. The Wade Boggs Affair broke and Les needed to do a live report on the air. Sitting in the back of the car, we listened as Les did his story and we thoroughly enjoyed the banter between the three of them. It was vintage Steve and Garry and Les. May his memory be a blessing. My condolences to the family.
Jerry Shapiro
January 20, 2022
Les, I really loved your presence in my life. And now, having seen the out pouring of love from others like me, who never met you, I sure hope you know how much you meant to your fans.
One thing I know, after watching your beautiful memorial service, it's clear you felt the love from friends and family.
Best to all of the above. Until we meet again…
David Ortega
January 21, 2022
Les, you have been a good impact on me as I listened and learned from you these past 2 years and more importantly you were truly a tzaddik to the 12-5 listeners and to your family and friends May the Lord comfort you with all the mourners of Zion and Jerusalem.
Sandy Kaczmarek
January 21, 2022
A truly nice man who took time to talk to a fledgling reporter with wisdom and tips. Thank you sir, Rest In Peace!
Tom Haskett
January 22, 2022
I'm so sorry for your loss Les and I have been friends since I was young and lived around the corner from him in Des Plaines. He was on my television show once also. May his memory be for a blessing!
Rabbi Doug Zelden
January 25, 2022
Les, you were one of my first mentors in the business. First, I was your student at Columbia College, then I came back for two more years (four more semesters) as your teacher's assistant. I learned so much from you and I will be forever grateful for your patience answering sometimes dumb or naive questions, helping me find opportunities in the business and just for being a friend. I wish we would have had more time together. You left us way too soon. A funny story: I found out several years ago that I had some Jewish heritage in my roots. I told you and the first thing you said was, 'You're Jewish? Well, welcome, brother!' One of my favorite memories of you, Les. Rest in peace, my friend. Shalom.
Jerry Bonkowski
February 4, 2022