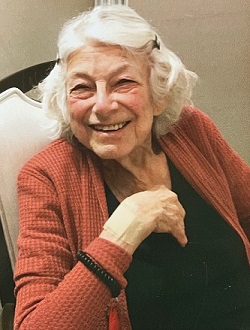 Bernice Liberman Auslander
November 21, 1930 - June 18, 2022
Date and Time
Tuesday, June 21, 2022 at 10:00 AM
Location
KAM Isaiah Israel Congregation
1100 East Hyde Park Blvd.
Chicago, Illinois 60615
Get Directions

Clergy
Rabbi Frederick Reeves
Cantor David Berger
KAM Isaiah Israel Congregation
Interment
Willow Lawn Memorial Park
24090 North Highway 45
Vernon Hills, Illinois 60060
Get Directions
Shiva
Leora Auslander Residence
5429 South East View Park
Chicago, Illinois 60615
Get Directions
Wednesday from 5PM-8PM.
Please park in the complex.
and
Bernice Auslander z"l Residence
Montgomery Place
5550 South Shore Drive, Unit 515
Chicago, Illinois 60637
Thursday from 2PM-5PM
Use small parking lot on 56th Street - Montgomery Place parking.
VIEW SHIVA PAGE & MORE
We invite you to record a video, sharing a story or memory of Bernice Liberman Auslander. Your private recording will only be shared with the family.

Memorial Contributions
World Wildlife Fund
1250 24th Street, N.W.
Washington, DC 20037
www.worldwildlife.org
---
OBITUARY
Bernice Liberman Auslander, 91

Retired mathematician, teacher, and union organizer. Wife of the late Maurice Auslander. Survived by her children Leora Auslander and Philip Auslander, her grand-daughter Shoshana Holt-Auslander, her brother Arthur Liberman, sister-in-law Lillian Liberman and nephew Andrew Liberman and many dear friends in Chicago, Boston, New York, and beyond. She was deeply loved and will be sorely missed. Service Tuesday 10 AM at KAM Isaiah Israel, 1100 E. Hyde Park Boulevard, Chicago, Illinois. In lieu of flowers, memorial contributions may be made to: World Wildlife Fund, 1250 24th Street, N.W., Washington, DC 20037, www.worldwildlife.org. To attend the funeral live stream, please visit our website. Arrangements by Chicago Jewish Funerals - Skokie Chapel, 847.229.8822, www.cjfinfo.com.
GUEST BOOK
We encourage you to share your personal condolences and stories of Bernice Liberman Auslander below and we will share them with the family.