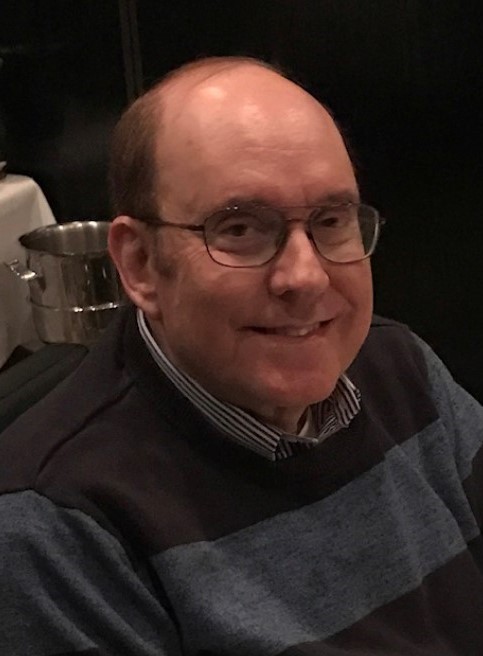 Dr. William Gary Spies
December 27, 1952 - November 11, 2022
Date and Time
Tuesday, November 15, 2022 at 12 Noon
Graveside
Memorial Park Cemetery
9900 Gross Point Road
Skokie, Illinois 60076
Get Directions

Clergy
Cantor Howard Friedland
Jewish Reconstructionist Congregation
Shiva
Spies Residence
1910 Watercress Way
Highland Park, Illinois 60035
847.494.9209
Get Directions
Tuesday following the interment until 8PM
Memorial Contributions
American Lung Association
55 West Wacker Drive, Suite 1150
Chicago, Illinois 60601
www.lung.org
---
OBITUARY
Dr. William G. Spies.
Loving father of Stephanie, Amanda, and Michelle Spies. Devoted brother of Stewart (Linda) Spies. Cherished uncle of Susie Spies Roth (Scott Roth) and Lauren (Josh) Shapiro. Beloved son of the late Robert and the late Betty Spies. Graveside services Tuesday, 12 Noon at Memorial Park Cemetery (Gan Menucha Section), Skokie. In lieu of flowers, memorial contributions may be made to American Lung Association, 55 West Wacker Drive, Suite 1150, Chicago, Illinois 60601, www.lung.org. To attend the funeral live stream, please visit our website. Arrangements by Chicago Jewish Funerals – Skokie, 847.229.8822, www.cjfinfo.com
GUEST BOOK
We encourage you to share your personal condolences and stories of Dr. William Gary Spies below and we will share them with the family.
A superb physician, who deeply cared about his patients and benefited so many wot his skill and acumen for so many years.
Eric Russell
November 13, 2022
Dear Stephanie, Amanda, Michelle, Stewart, Linda, Susie, Scott, Lauren & Josh,
Sending prayers to all of you. We'll be with you in thoughts on Tuesday, and will watch the livestream. Billy was a very special person. May his memory always be a blessing for those who loved him. Auntie Bev says that Billy ALWAYS called her on her birthday. He will be missed by all of us.
With much love,
The California crew - aka - Auntie Bev, Bert, Lolly, Jason, Tommie, Cheryl, Sam, Leigh-Ann, Harrison & Stephen
Loreli Crummett
November 13, 2022
I was saddened to learn that Bill had passed. He was a giant in our field and a wonderful friend. Bill was generous with his time and made an incredible impact on so many of us. I will miss his humor, wisdom and friendship. He was so proud of his daughters and spoke of both of you every time we met. My deepest condolences.
Sincerely,
Rich Brown
Friend of Bill
Richard Brown
November 13, 2022
I was deeply saddened to hear of Bill's passing. I was a resident who trained with him and later a colleague. I also was a board examiner and Bill was very active with the American Board of Radiology and gave me excellent advice. He was an incredible teacher who cared deeply about education. I will always remember his dry, witty sense of humor and the care and compassion he showed for his patients and trainees. He left quite a legacy of people he has impacted. My sincerest condolences.
Helena Gabriel
Helena Gabriel
November 13, 2022
I was deeply saddened to learn of Bill's passing. He was an incredible radiologist and leader in our field. His contributions to the field are great. His dedication to patient care, teaching and administrative work are unsurpassed. He was generous with his time, knowledge and advice. He had a great sense of humor. I will deeply miss his friendship and his leadership. He was a great friend. Stephanie, Amanda and Michelle, he was so very proud of you. He shared your accomplishments and loved his vacations with you. My heartfelt condolences.
Sincerely,
Alexis Nees
Friend of Bill
Alexis Nees
November 14, 2022
It was a pleasure to work with Bill over the last 21 years. His expertise in nuclear medicine will be sorely missed by those of us who depended on his breadth and depth of knowledge. May his memory be a blessing to his family.
Jeff Wayne
November 14, 2022
such a dedicated physician and always helpful. He will be missed and his family can be very proud of his contributions.
Helen and Gary Martin
November 14, 2022
I am deeply sadden by the loss of a long term colleague and mentor. Bill was a superb and devoted clinician and teacher who will be remembered and appreciated for many years to come !
deepest condolences to the family !
tanya simuni
November 14, 2022
We in Northwestern's Division of Hematology-Oncology and the cancer center mourn the loss of Bill who was a devoted colleague and excellent collaborator providing superb service for our cancer patients. He was a constant supporter of our research mission. I am personally so appreciative of his help over these many years, will miss him and offer my deepest sympathy.to his family.
Al Benson III
November 14, 2022
Very sorry to hear the news. Enjoyed working together and always appreciated his collaboration and insights.
Jeff Raizer
November 14, 2022
An excellent physician, a great colleague, and a truly good person. He will be missed.
Jeff Glassroth
November 14, 2022
Jeff Glassroth
November 14, 2022
Dear Dr Spies family,
Deep condolences on your great loss. Dr Spies was a pleasure to work with over the past several years. He will be missed for sure. God Bless all.
Maha Hussain
Maha Hussain
November 14, 2022
To the Spies Family;
Please accept my deepest condolences. I had the pleasure to work with Bill for many years and his door was always open whether it was just to say hello or to ask a question or two. He will be greatly missed.
Nick Rave
Nick rave
November 14, 2022
So sad to hear this. Bill was reading films till the last month or so, and always with attention to detail and with concern for who was on the other end of that report. He was a frequent collaborator with us in the Robert H. Lurie Comprehensive Cancer Center and the Division of Hematology/Oncology. Huge condolences to Stewart and the rest of Bill's family.
Leo Gordon
November 14, 2022
My thoughts and prayers are with the entire Spies family on the loss of Bill Spies. It was a pleasure to work with him for the over 20 years that I worked in the Nuclear Medicine department at NM. I learned so very much from him. I will hold you all close to my heart at this very difficult time.
Monica Geyer
November 14, 2022
Dear family of Billy Spies.
Billy will always be Billy to me. He sat behind me in many classes at Oakview Junior High. He made me laugh, he made me smarter. He was like the brother I never had. I didn't attend the last high school reunion. But I was more than lucky because I got to have all of Billy's attention, three weeks prior to the reunion, at Hackney's, where we had a terrific lunch in an outside tent. What a gentleman. What a guy. I am so sorry for the loss of his pure goodness and energy into the world.
Merle Siegel Daniels
Merle Daniels
November 14, 2022
Always a warm smile and useful insightful in difficult medical decisions
He will be missed
Thomas Pitts
November 14, 2022
Billy was in my first grade class at Middleton School in Skokie. Academically brilliant throughout school, he of course went on to a stellar career of not only personal success but doing good in the world. But he was so much more. Where others keep quiet afraid to stand up for their friends because of being judged, he didn't shy away from showing he cared about you. A real mensch. Gone too soon and a great loss. May his memory be for a blessing and a comfort to family and friends.
--Linda Lipman
Linda Lipman
November 14, 2022
To Stewart, Linda, Stephanie, Amanda, Michelle, Susie, Lauren and the rest of the Spies family:
Bill was a mentor, colleague and friend of mine for close to 20 years. I worked with Stewart and Bill for almost 12 years and I can honestly say that it was one of the best times in my career. Bill and Stewart working together kept me laughing during so many challenging times in our daily routine. He loved making a difference in the lives of our patients and patients truly appreciated him. And, he was so proud of not only his daughters, but his nieces too. We kept in touch after I went to work up north and he would always be available. Sometimes, we would run into each other at Max and Bennys! The field of medicine is greater and better because of Dr. Bill Spies. I am going to sincerely miss him.
Jennifer Baralli
November 14, 2022
I have been an internal medicine doctor at Northwestern from 1990 to present. He was always a solid nuclear medicine report and would always be available to go in further depth in his readings. Always a professional and dependable. His legacy is the ongoing excellent functioning nuclear medicine department.
Rest in Peace!
Peter
Peter Hill
November 15, 2022
Bill was one of 60 HPME students who graduated from the Northwestern Feinberg School of Medicine in 1977. He always had a great sense of humor making us laugh or groan at his puns. He was an outstanding nuclear medicine physician at NMH and will be greatly missed.
Dianne Sawyer
November 15, 2022
So saddened to hear of Bill's passing. I had the pleasure of getting to know Bill through Me and My Dad when our girls were young and I have so many great memories. He was intelligent, personable, caring and with a wit that was tack sharp. His loss will be cavernous, as his memory will be for an immense blessing.
Jim Bream
November 15, 2022
To the entire Spies family please know you are in my thoughts and I pray your comfort in this time of bereavement.
It was a pleasure assisting Dr. Bill Spies over the years. He was always so kind. I recall setting up Dr. Spies' reading workstation with a foot pedal and headset to use for dictation and it seemed he would call me at least twice a day explaining something is wrong with the setup. One day Dr. Bill Spies called to report the headset wasn't responding so I visited him at his station, soon after arriving I discovered the problem. I asked him if he was aware that the headset had to be plugged in to work? He answered yes, immediately he realized my point I was making, the headset wasn't plugged into the computer. We shared a good laugh, then he stated, "Jermaine, I'm making sure you have job security."
Shalom
JERMAINE MCDONALD
November 15, 2022
So sorry to read this obituary.
I have another shiva tomorrow although I'll try to stop.
All
My love at this sad time.
Alison Packer
Alison Baker Frank Packer
November 15, 2022
Bill trained me in nuclear medicine and continued to mentor me periodically throughout my career. I know no one with a greater authority in this field. He also seemed to know something about everything. His knowledge and judgment were matched by a wry sense of humor and endearing smile. I'm deeply saddened by his passing.
Peter Baumgartel
November 15, 2022
The American College of Radiology (ACR) is truly saddened to hear of your loss. Dr. Spies was an inspiration for his many years and contributions as Chair of the DXIT Exam and his work on the Commission of Publications and Lifelong Learning. His work with DXIT has prepared many residents to transition into their radiology careers. He will be greatly missed by many, especially the DXIT Editorial Board and the staff who loved working with him.
Lori Deitte
November 17, 2022