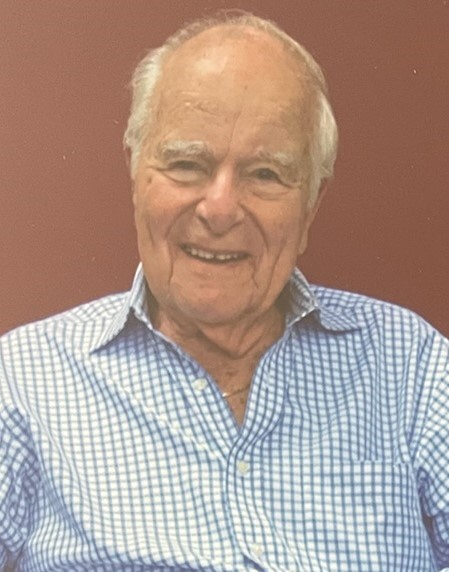 Ernest Lorch
May 15, 1923 - June 28, 2022
Date and Time
Sunday, July 3, 2022 at 10:00 AM
Location
Temple Jeremiah
937 Happ Road
Northfield, Illinois 60093
Get Directions

Clergy
Rabbi Rachel Heaps
Temple Jeremiah
Interment
Indianapolis Hebrew Congregation Cemetery
1300 East 161st Street
Westfield, Indiana 46074
Friday, July 1, 2022 at 2:30 PM
CLERGY
Cantor Janice Roger
Get Directions
Shiva
Klineman Residence
471 McLaren Lane
Carmel, Indiana 46032
317.815.3787
Get Directions
Following the interment until 6PM.

Lesley and Ryan Kraft Residence
622 Illinois Road
Wilmette, Illinois 60091
Sunday 12PM - 5PM
312.485.1703
VIEW SHIVA PAGE & MORE
We invite you to record a video, sharing a story or memory of Ernest Lorch. Your private recording will only be shared with the family.

Memorial Contributions
Jewish Federation of Greater Indianapolis
6705 Hoover Road
Indianapolis, Indiana 46260
www.jfgi.org
or
The Executive Service Corps of Indianapolis
70 East 91st Street, Suite 204
Indianapolis, Indiana 46240
www.execservicecorps.org
---
OBITUARY
Ernest Lorch was born in Nuremberg, Germany on May 15, 1923 as the only child of Fritz Lorch and Alice Eckman Lorch. He had an enjoyable childhood until Hitler came to power. In 1938, just before he and his family were to emigrate to the United States, on Kristallnacht, his father was killed while in the hospital and the family jewelry store was ransacked.

Ernie and his widowed mother went to New York City in 1939 where they both had factory jobs and he finished high school at night. Just before joining the army in 1943, he went on a blind date and met Ellen Rosenheim, with whom he corresponded throughout the war.

Ernie was very proud of his work in the Intelligence Service during WWII. He interrogated prisoners of war and high commanding Nazi officers and politicians. At the end of the war he worked for the War Crimes Commission and in what can certainly be called retributive and restorative justice, he officially delivered prisoners to the tribunal in Nuremberg, the city of his birth. Before leaving Germany, he found his grandmother who had been in the Dachau Concentration Camp and brought her to the United States.

After the war, Ernie moved to Indianapolis, Indiana joined by his bride, Ellen. There they raised two children, Ken and Karin. Ernie spent most of his working career as a manufacturer's representative, selling children's clothes to stores in Indiana and Michigan. He was on the board and then became President of the Bureau of Wholesale Sales Representatives, the trade association for his profession, and was given their Arthur Rice Lifetime Service Award in 1995. He was an avid tennis player, enjoyed art and the symphony, and was an enthusiastic traveler.

It was in retirement that Ernie became an ardent volunteer. He was on the boards of the Indianapolis Hebrew Congregation, the Hooverwood Jewish Home, the Jewish Federation, and the Central Indiana Council on Aging (CICOA). He served as president of the boards of the Asian Art Society and Park Regency Senior Apartments. He was a member of Broadmoor Country Club, active with the Executive Service Corps, and a member of the Service Club of Indianapolis. In hopes that the Holocaust never be forgotten or repeated, Ernie frequently spoke to school children and civic groups about his life in Germany and the Holocaust. He received the Federal Republic of Germany Friendship Award from Germany in 2009, the Mossler Community Service Award from the Jewish Federation in 2019, and the Sagamore of the Wabash award from the Governor of Indiana in 2020.

After his wife, Ellen passed away, Ernie spent a dozen years enjoying life with Elaine Klineman. Ernie is survived by his son, Ken (Susan) Lorch; his daughter, Karin (Dick) Miller; four grandchildren - Lesley (Ryan) Kraft, Erica Lorch (Brian Boruszak), Avi Miller, and Carrie Miller Tyler; and three great grandchildren.

Service Sunday 10AM at Temple Jeremiah, 937 Happ Road, Northfield. Donations may be made to the Jewish Federation of Greater Indianapolis, 6705 Hoover Road, Indianapolis, IN 46260, www.jfgi.org or the Executive Service Corps of Indianapolis. To attend the funeral live stream, please visit our website. Arrangements by Chicago Jewish Funerals - Skokie Chapel, 847.229.8822, www.cjfinfo.com
GUEST BOOK
We encourage you to share your personal condolences and stories of Ernest Lorch below and we will share them with the family.