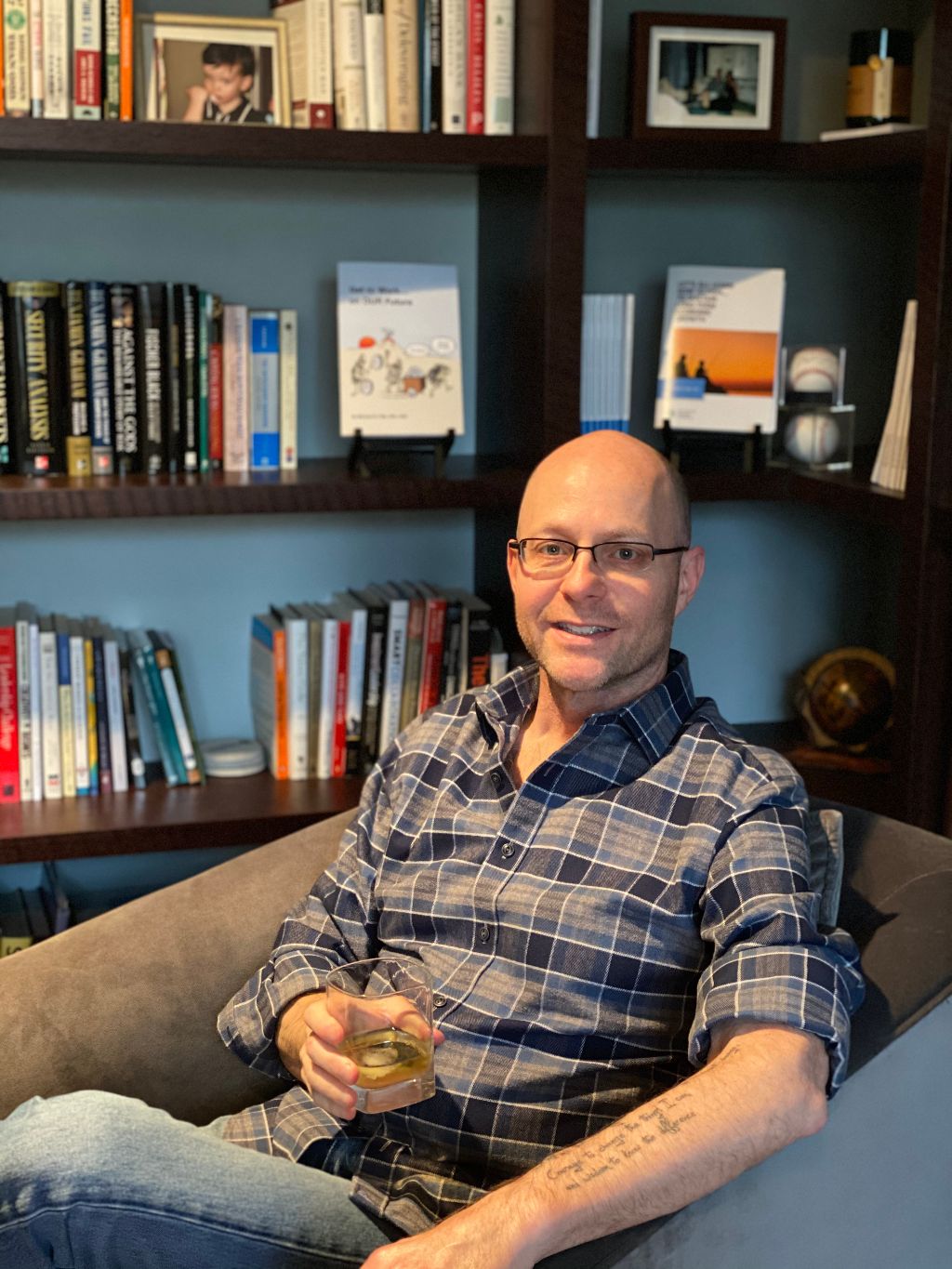 Michael S. Falk
July 10, 1967 - October 9, 2021
Date and Time
Friday, October 15, 2021 at 1:00 PM
Location
Chicago Jewish Funerals
Buffalo Grove Chapel
195 North Buffalo Grove Road
Buffalo Grove, Illinois 60089
Get Directions

Clergy
Rabbi Jason Fenster
Interment - Private
We invite you to record a video, sharing a story or memory of Michael S. Falk. Your private recording will only be shared with the family.

Memorial Contributions
Les Turner ALS Foundation
5550 West Touhy Avenue, Suite 302
Skokie, Illinois 60077
www.lesturnerals.org
and
I AM ALS
1200 Pennsylvania Avenue NW, #14135
Washington, DC 20044
www.iamals.org/give
---
OBITUARY
Michael S. Falk, a visionary in the financial world and a better-than-average baseball player, died Saturday, Oct. 9 of complications from amyotrophic lateral sclerosis (ALS). Michael went ahead of schedule, but then he always preferred being early to simply on-time.

Michael was both a thoughtful man and a thinking man, and while he was known for his intellectual honesty, it was his innate curiosity and desire to do the right things that he wanted to pass on to others.

He did that throughout a career that played out in three acts, first as a financial planner, then in institutional money management, and finally sharing his expertise in decision-making and strategic planning with investment- and financial-planning firms in his dream job with Focus Consulting Group. He was a sought-after and impactful speaker, and a prodigious writer, authoring many influential pieces for financial journals, as well as two books, "Let's All Learn How to Fish to Sustain Long-Term Economic Growth," and "Get to Work on OUR Future."

His contributions in the field were recognized most recently by achievement awards from the Research Foundation of the CFA Institute and the CFA Society of Chicago; while Michael graciously accepted the awards, he had come to realize that work was not his greatest achievement.

Michael's personal life also played out like a three-act play; he was born in 1967 in Skokie, Ill., to Karen and Jerry Falk. He graduated from William Fremd High School in Palatine, Ill., in 1985 and from the University of Illinois with a degree in finance four years later. Growing up, baseball was Michael's true passion; he attracted some attention from scouts and ultimately played semi-professionally, only hanging up his mitt in his 30s, but never losing his zest for the game.

His professional life was the next stage for Michael, and he attacked it with a single-minded focus. "People will say I was 'intelligent, challenging and honest,'" Michael said, "but when you hear those words, you don't know the person being described has a heart."

Michael did have a heart, though he only first started finding that in himself in the summer of 2001, when he met Suzanne Huber at a concert at Lincoln Park Zoo. They married, eventually settling in Riverwoods and having a son, Collin; while Michael's life was cut short, he lived long enough to be certain that Collin was and will be his greatest achievement, fulfilling his goal of leaving the world better than he found it.

Around the time Michael met Suzanne, he also "found my confidence and lost my fear." Michael realized that much of his drive and pursuit of knowledge stemmed from always seeing himself as "different" in how he thought and viewed things, raising insecurities that he tried to hide from the outside world, and masking fears of failure and inadequacy.

When he reached the point where he wasn't scared – where his actions mattered more than how someone might receive them – Michael was free both professionally and personally. To that end, Michael acknowledged that it was mostly in the last 10 years that he created the types of deep connections with others that he should have had his entire life; it was as close to regret as Michael ever came, a personal lesson he expected to learn and grow from without discussion until ALS forced him to share it, as always so that others might learn.

Michael is survived by his loving wife Suzanne and Collin, as well as his father Jerry, sisters Lisa Stevens and Barri Roubenoff and their respective partners Mike and Ronnen, his sister-in-law Julie Rutolo, five nieces and nephews, and two Portuguese water dogs, 10-year-old Roscoe and Blu, a puppy who Michael described as "my life's last real annoyance." Professionally, he is survived by James Ware, his mentor, friend and partner in Focus Consulting Group.

Michael had no problem telling people exactly what to do with their money, and he made it abundantly clear that no one was to waste a penny on him for flowers. Knowing that ALS often runs through bloodlines, however, he was equally clear that his friends and family can and should afford a double donation – one in his memory, the other in Collin's honor – to the Les Turner ALS Foundation (lesturnerals.org/get-involved/ways-to-donate) and to I Am ALS (iamals.org/give) so that other families – and especially his own – will have a better chance of avoiding and defeating the disease.

Memorial Services will be held, Friday, 1PM at Chicago Jewish Funerals, 195 N. Buffalo Grove Road (One block north of Lake Cook Road) Buffalo Grove.Arrangements by Chicago Jewish Funerals - Buffalo Grove Chapel, 847.229.8822, www.cjfinfo.com
GUEST BOOK
We encourage you to share your personal condolences and stories of Michael S. Falk below and we will share them with the family.