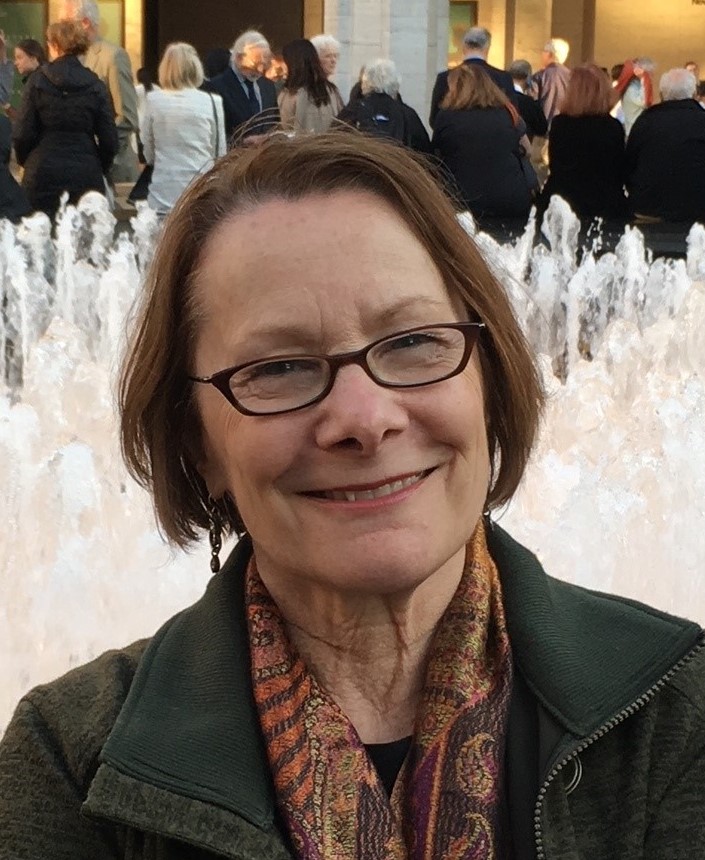 Joyce Carol Winer
May 27, 1947 - November 17, 2022
Date and Time
Friday, December 2, 2022 at 10:00 AM
Location
Chicago Jewish Funerals
Skokie Chapel
8851 Skokie Boulevard
Skokie, Illinois 60077
Get Directions

Clergy
Cantor Michelle Drucker Friedman
Emanuel Congregation
Interment
Rosehill Cemetery
5800 North Ravenswood Avenue
Chicago, Illinois 60660
Get Directions
Shiva
Kaplan Residence
4100 North Springfield Avenue
Chicago, Illinois 60618
773.297.8854
Get Directions
Friday from 2PM until 8PM
We invite you to record a video, sharing a story or memory of Joyce Carol Winer. Your private recording will only be shared with the family.

Joyce's Memorial Playlist
https://open.spotify.com/playlist/2G5WaV9I2c5qovW549cLKx?si=b34135fa3ffe46ba
---
OBITUARY
Joyce Carol Winer, the beloved wife of David Michael Kaplan and mother of Ethan Henson Kaplan, died on November 17, 2022, of ovarian cancer, first diagnosed in July, 2019. She died in hospice, at home, David and Ethan by her side. The years in between were good ones, her cancer mostly in abeyance until the very end. During that time, which was also unfortunately the time of the pandemic, limiting travel, she and David were still able to see dear friends and relatives in New York, Miami, Greenville, Kentucky, and Sante Fe-a place she'd longed to visit. And she had time and energy to transform the backyard of her house into a beautiful garden, which became her late life passion.

The facts of Joyce's life: She was born on Staten Island, New York on May 27, 1947 to Beatrice and Allenby Winer. Her childhood was peripatetic, as the family moved many times for her father's career in retail advertising, moves that took them to Ithaca, New York; Fairmont, West Virginia; San Diego, California (where they "couldn't go any further west," she quipped); then back East to Paynesville, Ohio and finally Elgin, Illinois, where she graduated from Larkin High School. At Larkin she was editor of the school yearbook. She later graduated in 1969 from the University of Illinois Urbana-Champaign with a degree in communications. She pursued a career in advertising at J. Walter Thompson in Chicago, where she worked on the Kraft Foods and Sears accounts, then went to New York to the Ted Bates agency, where she worked on the Maybelline Cosmetics and Breck Shampoo accounts. Upon moving back to Chicago, she started her free-lance writing business in print communications, Joyce Winer Written Communications, working primarily with non-profit agencies in the health sector, such as Erie Family Health Centers, a long-time and favorite client.

Throughout this time, however, her passion was for fiction and nonfiction writing. She was accepted into the prestigious Iowa Writers Workshop at the University of Iowa, from which she graduated with an MFA in 1986. It was there that she met David; as a matter of fact, she was the very first person David met at the Workshop, when he arrived in 1985. She and David lived in Iowa City until 1987, when he graduated the Workshop. After travelling that summer to Greece and living in a small village on the southern coast of Crete (where they had a 180 degree view of the Libyan Sea from the terrace of their apartment, and at night could hear the music from northern Africa on the radio), they moved to Chicago where David had a teaching position at Loyola University Chicago. After all the years of peripatesis, Joyce finally settled down; she and David lived happily in the same house with their son, Ethan, (who arrived in July of 1992) for the next thirty-three years.

During these years in Chicago, Joyce published fiction and nonfiction in magazines such as Lears, Seventeen, Crazyhorse, and ACM; her essay in Lears, "The Floating Lightbulb", was selected for the anthology, Minding the Body, and subsequently developed into a play produced at the Tampa Black Box Theatre in Tampa, Florida. She also occasionally taught composition, literature, and fiction writing at the University of Iowa, Loyola University Chicago, and Columbia College, Chicago. Late in life she discovered a passion for gardening, turning their backyard into a horticultural showpiece, a stop on the neighborhood garden walks.

But these years weren't without more travel. During that time she and David and sometimes Ethan travelled to Italy, Costa Rica, Vietnam, Cambodia, Thailand, Puerto Rico, Greece, and Peru, where they visited the ancient Inca site of Machu Picchu, another dream of hers. They also toured Israel and Egypt during the build-up for the first Gulf War, where it seemed as it they were the only tourists in Israel. Before her marriage, she had already travelled in Spain and Portugal; later, on her own, she visited friends in San Miguel de Allende, Mexico. In the States, the family ran rapids in West Virginia and Oregon, hiked in the national parks of the Southwest, in particular Monument Valley and the Grand Canyon, and went whale watching off the coast of Washington. And in 1996-97, they lived in Rome, Italy for a year while David taught at the Loyola Rome Center, and where they spent as much time as possible travelling throughout Italy, falling in love with the Italian people, their food, art, and culture.

But the greatest adventures of their life were their marriage and the raising of their son, Ethan, who was the light of her life. Indeed, Joyce's truly special gifts were for marriage, motherhood, and friendship. She was a wonderful and beloved wife and mother, and a beloved friend to so many in the neighborhood. Yes, there were many trips, many travels, many countries visited and sights seen-but much of the happiness of her life was in the smaller moments of family and friendship: eating al fresco on the deck, a practice picked up in Italy and done every warm evening in the summer and fall; having coffee in the morning or a glass of wine in the evening on the front porch; walking Oliver, the family Corgi; working in her garden under her great sun hat; having friends over for lunches and dinners; sitting by the fireplace with David on cold winter evenings. She was a light in the world, a light to those who knew her. That light will live on in our hearts, and warm us to the end of our days.

The family will be sitting shiva from 2 pm until 8 pm on Friday, December 2 at their house, 4100 N. Springfield Ave., Chicago, after the memorial service and burial. All are welcome.
GUEST BOOK
We encourage you to share your personal condolences and stories of Joyce Carol Winer below and we will share them with the family.