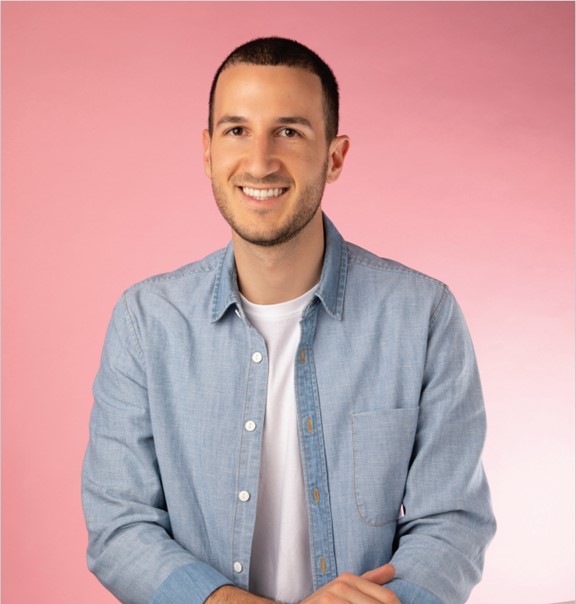 Adam Daniel Goldberg Cohen
August 27, 1992 - June 14, 2022
Date and Time
Thursday, June 23, 2022 at 11:00 AM
Location
Anshe Emet Synagogue
3751 North Broadway Street
Chicago, Illinois 60613
Get Directions
To those coming to the funeral for Adam: We will be coming from all over the country and are likely to be in crowded indoor spaces. Some of us are in high-risk populations for COVID. We would greatly appreciate it if you would be willing to wear a mask when we are indoors. Also, if you have extra KN95 masks, you might want to bring them for those who don't have any. We encourage you to take a home COVID test before you travel. Thanks!

Clergy
Rabbi D'ror Chankin-Gould
Rabbi David Russo
Cantor Rachel Brook
Cantor Liz Berke
Anshe Emet Synagogue
Interment
Rosehill Cemetery
5800 North Ravenswood Avenue
Chicago, Illinois 60660
Get Directions
Shiva
Cohen Residence
3930 North Hamilton Avenue
Chicago, Illinois 60618
773.539.2092
Get Directions
Thursday evening at the Cohen residence from 5:30PM to 8PM, with Maariv at 7PM led by Cantor Berke.

Friday gathering at Anshe Emet Synagogue, 3751 North Broadway, Chicago, Illinois 60613 from 3PM to 5PM

Sunday at the Cohen Residence from 5:30PM to 8PM with 7PM Maariv.
VIEW SHIVA PAGE & MORE
We invite you to record a video, sharing a story or memory of Adam Daniel Goldberg Cohen. Your private recording will only be shared with the family.

Memorial Contributions
Masorti Foundation for Conservative Judaism in Israel
www.masorti.org
or
Peace Corps Partnership Program
www.peacecorps.gov
---
OBITUARY
Adam Daniel Goldberg Cohen, journalist and humanitarian, community-builder, proud Jew, loving son, doting brother, and a passionate friend to so many, died suddenly of natural causes in his spiritual home of Tel Aviv, Israel, on June 14. He was 29 years old.

Adam's impact during his time on earth was immeasurable. From Tulane to Togo to Tel Aviv, Adam won people over with his warmth, thoughtfulness, sense of humor, exceptional jump shot, and uncanny freestyle rapping abilities. He was many people's favorite person.

Adam is survived by his adoring parents, Michael Cohen and Lisa Goldberg, and sisters, Sarah (32) and Adina (25), who all loved him beyond measure. He had an incredibly close bond with his immediate family, with whom he shared many passions, including a love of travel, finding meaningful connections amongst seeming-coincidences, deep learning, languages, music, Chicago teams, trivia, and public service. Adam treasured the time he spent with his late grandparents, Joyce Cohen (Allan Cohen) and Lucile and Michael Goldberg. He is also survived by a large, loving extended family of aunts, uncles, and cousins throughout the United States and will be remembered by them as the life of the party at B'nai Mitzvot, as well as a gracious conversationalist who made them feel like no time had passed once they were together. Adam was truly devoted to honoring his immediate and extended families, whether it was celebrating holidays and other life events, catching a Cubs game, singing, or sharing stories.

Adam was born in Chicago on August 27, 1992, and he was a proud Chicagoan, no matter where he called home. In photographs taken across the world, Adam could be seen with a red "C" emblazoned across his chest, and he was a consummate ambassador for the city that he loved. At a moment's notice, Adam was ready to recite the Cubs' batting lineup, obscure pieces of CTA trivia, or early Lupe Fiasco lyrics. His identity as a Chicagoan was celebrated on the West Coast by fellow campers at Camp Ramah in California, where he spent seven summers, including his first trip to Israel and a summer as a staff volleyball specialist.

After an enriching primary education at Edison Regional Gifted Center, Adam attended Whitney M. Young Magnet High School, where he excelled as a student-athlete. Alongside close friends, Adam guided the Whitney Young men's volleyball team to their second consecutive city championship and was named the 2010 tournament's Most Outstanding Player. "Cohen and Co. net consecutive crowns," read the Sun-Times headline. He was selected for Third Team All-State as a setter.

At Tulane University, Adam studied Anthropology and immersed himself in New Orleans' culture with fierce curiosity, a photographer's eye, and an anthropologist's mindset, both in and out of the classroom. Adam was an active member of the Tulane Chabad, a mainstay on the Dean's List, and an unusually loyal devotee of Green Wave athletics. He bridged friend groups and filled rooms with his signature high-pitched giggles and full-bodied laughter (often literally collapsing his 6-foot-3.5in frame onto you to punctuate a particularly good joke). In his junior year, Adam put his French studies into action during a semester at SKEMA Business School in Southern France, where he solidified his fluency in the language and deepened his lifelong love of French culture. Friends from all walks of Adam's life were in awe of how he balanced being a true intellectual and a consummate goofball.

Driven by a deep sense of purpose and an appetite for adventure, Adam enrolled in the Peace Corps after college and spent two years living in Togo, West Africa. He worked with farmers, women's groups, and youth organizations to implement sustainable farming practices and founded an agribusiness called "Cadeau de la Terre" that helped local coffee farmers package and retail their beans. Adam also worked in food preservation and security, helping farmers can jams and sauces to sell or eat later. He toured surrounding villages to help train other volunteers and Togolese partners in this practice.

In Togo, Adam quickly won over his community by making the rare effort to learn Akebu, the local language spoken in his isolated village of Kougnohou. This was emblematic of Adam's deep respect for other cultures, devotion to building meaningful relationships, and his impressive linguistic abilities – at the time of his passing, Adam was conversant in at least five languages. He was adored by his Togolese community – establishing inside jokes, absorbing cultural nuances and traditions, and serving as a pillar of warmth and support for all – often bridging the gap between Togolese and Peace Corps volunteers through laughter. He even recorded a rap mixtape in French with his host brother, which was well received in the village but has unfortunately yet to receive major label attention.

After the Peace Corps, Adam returned to Chicago to pursue a Master's at the renowned Medill School of Journalism at Northwestern University. Upon graduating, he moved to Washington, D.C., and launched a career as a science journalist, publishing articles in Smithsonian Magazine and working as a writer for the American Association for the Advancement of Science (AAAS). Journalism suited Adam's appetite for learning new things and sharing knowledge that would make the world a better place. He was a phenomenal listener, a skill that made him both a perceptive journalist and a treasured friend.

In D.C., Adam reveled in expanding his network of friends through intramural volleyball and trivia nights. He never made it onto Jeopardy, but it wasn't for lack of trying. After a hard day at work, Adam could be found unwinding by downing pint after pint of Ben & Jerry's ice cream.

His sweet tooth matched his disposition as a loving and affectionate friend. Adam had a rare gift to make every friend feel special. He consistently uplifted those around him and made them feel loved and understood. He took the time to get to know people intimately, held onto their traditions and inside jokes, and never forgot a birthday or to ask about a sibling or loved one. Adam could always be counted on for encouragement and praise – a pep talk before a first date; a thoughtful "mazel tov" for accomplishments big and small. His gregarious nature and ever-widening circle of friends made him a popular wedding guest. Adam was often the first volunteer to lift the chair during the Horah and the last one on the dance floor, making him a frequent topic of conversation amongst bridesmaids and bubbes alike, who marveled at his height, wit, and general menschiness.

While he was thriving in D.C., Adam continued to grow stronger in his Jewish faith and felt that his calling was to make Aliyah and live in Israel. He moved to Tel Aviv in March of 2021, landing a job as a content writer at the web development company Wix.com. In Tel Aviv, Adam made an instant impact professionally, socially, and spiritually. Of course, he learned to speak Hebrew and dove headfirst into experiencing the city and becoming an Israeli. He celebrated weekly Shabbats with his various new friend groups, who adored Adam as if they'd known him their entire lives. He was proud to be living in his own one-bedroom apartment in Tel Aviv with funky yellow tiles that matched his funky yellow bike, which he rode daily to work and ceremoniously from Tel Aviv to Jerusalem on Yom Kippur (while fasting, nonetheless). To celebrate the High Holidays as a Jew in Israel was a highlight of his life, and he proudly expressed that in Tel Aviv he felt as though he was truly at home.

Amongst his many other virtues, Adam will be remembered for his profound kindness and the impact his bright and loving personality made on everybody he met. In his passing, Adam inspires us to be more curious and compassionate. To ask questions and listen closely, to consider every person in the world worth understanding and loving, and to do so with purpose and intentionality.

"Adam was able to treat every person he met with a kindness so genuine it made your heart feel warm. It brings me comfort to know that even in his short time here he shared more kindness than many of us ever will in our lifetimes. I know his impact on both loved ones and strangers will have ripple effects for decades to come." – Adam's sister, Adina.

Service Thursday at 11AM at Anshe Emet Synagogue, 3751 N. Broadway Street, Chicago, IL 60613. Interment Rosehill Cemetery. In lieu of flowers, memorial contributions may be made to Masorti Foundation for Conservative Judaism in Israel, www.masorti.org or Peace Corps Partnership Program, www.peacecorps.gov To attend the funeral via live stream, please visit our website. Arrangements by Chicago Jewish Funerals - Skokie Chapel, 847.229.8822, www.cjfinfo.com.
GUEST BOOK
We encourage you to share your personal condolences and stories of Adam Daniel Goldberg Cohen below and we will share them with the family.